I didn't always do this when I first started teaching , but when I started it,  it was wonderful. I have "Table Captains".  I love table captains because it eliminates chaos, teaches responsibility, and they help organize table work.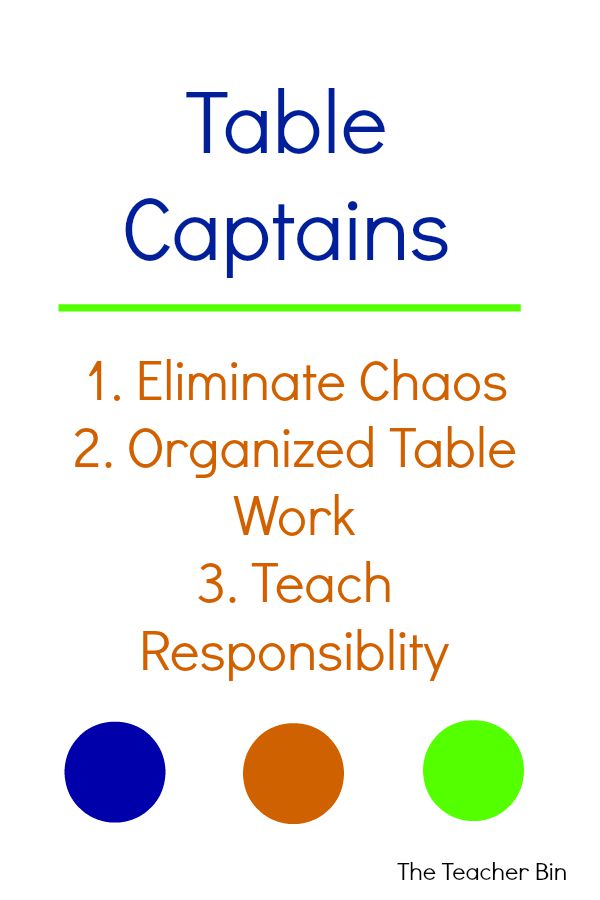 The table captains…
The table captain gets markers, crayons, paper, etc for their table (community property).
If there are table games, the captain goes first to begin the game. 
I name the table after the Table Captain, for example,"Mark's table please line up for music."
The captains also collect items from the table to hand in to me.
How I Pick Table Captains
Having table captains really made less chaos in the classroom for me and the table partners. The table captains has the job for a month. Each month I change tables and seats with the kiddos. The kids loved being the captain. (Believe me they never let me forget to change captains.)
Everyone has a chance to be a Table Captain. Once everyone in the class has had the opportunity, we would roll dice for the highest or lowest number and that would be the captain of the month. I started to keep track in my record book , to make sure everyone has had a turn.
Looking For More Ideas?
Visit The Teacher Bin on Teachers Pay Teachers where I share lessons, games, and ideas for the classroom!
Let's Connect
Let's stay connected!  I can be found on Facebook or Pinterest sharing more ideas!