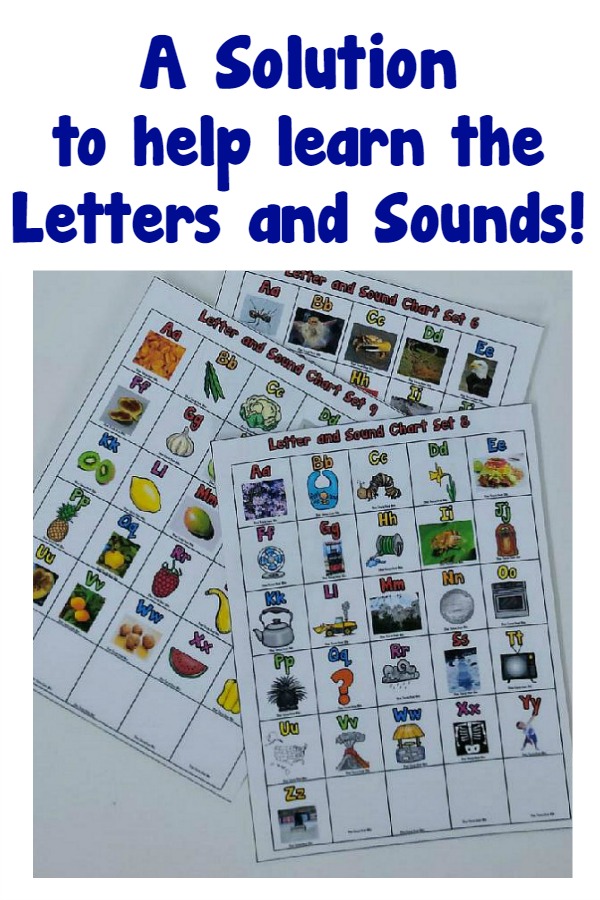 One of my best teaching solutions for helping children with their letters and sounds was my Letter-Sound Wall Chart. The Letter- Sound Picture Individual Charts for each kiddo is equally great. Each kiddo has their own chart to  correlate with the Letter Sound Wall Chart.  Once the kiddos learn the picture sound cards from the wall chart they can use the individual charts for more practice throughout the day.
I was noticing that some of the  kiddos were not learning the letters and sounds so I needed another tool to help them.  It started with the wall chart, and that worked great, but they needed to have something personally to carry around and that was not going to be the wall chart! The individual charts are great for the kiddos to handle. I put them in a plastic protector sheets for durability.  Now the kiddos can take the charts and use them for a variety of activities and even take them  home for homework
How to Use the Individual Charts
Point to the alphabet letters and the kiddos respond by saying the following..
1.A(letter name)
2. Say the  phonetic sound of the letter (Vowels are the short sound)
Name the picture that corresponds to the sound.
Cc- Cat
Repeat this for all of the alphabet letters.
Each month I have a new chart with different pictures.
When and How the Kiddos use the Charts
I have my kiddos bring their individual charts to me during Guided Reading Groups.
Read the charts in the morning before school or after lunch
Read with a partner
Read during learning centers
Read the charts backwards
The ideas are endless.
You will love this chart and see how letter recognition and sounds are improved with your kiddos.
Do you like this idea, but don't have the time to create it yourself?  You can find Letter-Sound Picture Individual Chart in my Teacher Store