Do you love cats? If you do, you will love this Cat Theme product.  Need ideas for teaching with a cat theme in your classroom? You're in the right place!  Save time with these cat themed  activities.  The product also features a delightful book, The Cookie Store Cat by Cynthia Rylant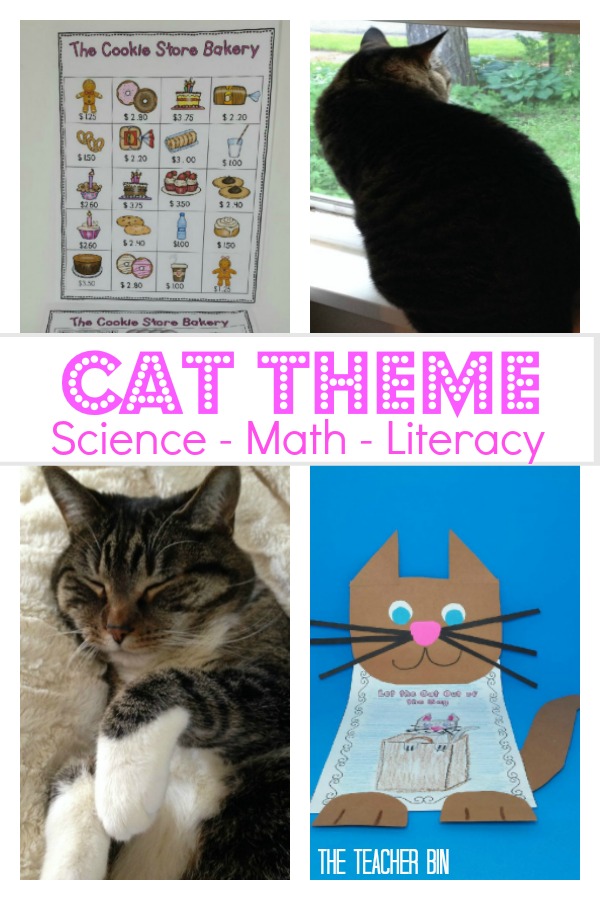 Contents:
Book List: I love these cat books because they help teach children the values of compassion and gentleness.
Anchor Chart Ideas and Facts about Cats
Student Created Book about Cats- The information can be gathered from personal experience or the Anchor Chart.
Tic- Tac- Toe Games:  Watch out for the "Cats" game.
Cat Idioms: Illustrate the idioms figuratively  or non-figuratively
Poems: Illustrate
Art Project: Draw a Cat
Non-Fiction Student Book on Cats
Feature-The Cookie Store Cat by Cynthia Rylant
Anchor Chart– Character Elements of the Cat and Baker
My Favorite Cookie-Writers Workshop Activity-What is your favorite cookie.
Cinquain Poem: Writer's Workshop Activity
Coin Games: Coin Recognition(Heads and Tails)  A buddy game.
Coin Value Game: A buddy game
Bakery Shopping Games: Determine the goodies you can purchase at the bakery.
Baker's Daily Inventory: Graphing Activities
Spelling: "at" Words
Who Stole the Cookie from the Cookie Jar: A new twist on this game using numbers 50-150.
Bakery Word Search
CVC "Short a" Picture-Word Game: The game can be played as a small group center game or a class game.
How to Use the Cat Theme Product
Cats come in all shapes,sizes, and personalities so you will like this product with all its resources and ideas.
The science of learning about cats is high interest with your kiddos. They will learn about the cat  personality, habits  and distinctive traits with several activities.  The Anchor Chart and KWL  chart provides a great deal of information and facts.
The product features the book The Cookie Store Cat by Cynthia Rylant.  There are several money activities that  kiddos can  select bakery goodies they want to purchase at the cat's  Cookie Store Bakery.
If you want to excite your kiddos with the fun activities about cats , and don't want to make your own worksheets, enjoy this product.  You can find  Cats Theme Science,Math, and Literacy Activities  product in my  Teacher Pay Teacher Store You will have kiddos caught up in the excitement of this great Cat Themed Product.
Looking For More Ideas?
Visit The Teacher Bin on Teachers Pay Teachers where I share lessons, games, and ideas for the classroom!
Let's Connect
Let's stay connected!  I can be found on Facebook or Pinterest sharing more ideas!