Are you looking for a way to reinforce ending sounds?  Play "Sound Lotto" games!   I like playing "lotto" games in the classroom because the kiddos can work with a partner or independently.  Lotto Games are  played like bingo boards, but letters are on lotto board not numbers and picture cards are used to match the ending  letter sound on the board. This game is great, it  will help the kiddos hear the words and enunciate those sounds.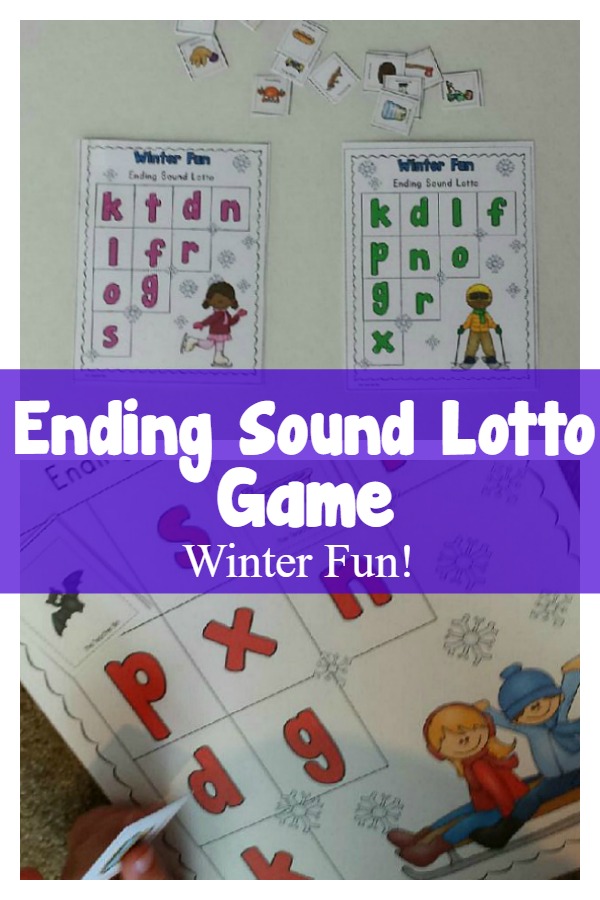 "Hands on" literacy games are very important in my classroom.  I believe very strongly in play and why not learn by playing literacy games.  The kiddos have so much fun they don't even know they are learning. Children need to practice and practice skills to learn.  By changing up pictures and games, the kiddos still work on the same skill, but they see it as a new game.
This particular game consists of "ending sound" Letter Lotto boards (7) and  110 Picture Cards to match the letters. (There are 8 to 9 picture cards to each letter)  No lotto board is alike.  The boards  have common letters, but not in the same arrangement. They also look different because the clip art is different on each board.
How to Play
In the classroom this is a center game.  I have the lotto cards placed around the table and the picture cards are in the center for the kiddos to choose.  Often times when I introduce a new "independent" game like this, I have two kiddos play with one lotto board together. They can help each other out and it helps them understand how to play the game.  This is more difficult with all picture cards in the middle if the table because they have to sound out many cards to get the right sound for the letter, I do think its good practice.  I like when the kids notice that many different pictures can go with one letter  sound.
You could sort and put correct picture cards for each lotto board and bag them up as separate games too.   (The picture word key at the end of the product, will help you with the sorting.) Make sure you mark the cards with a colored dot or line,   if you don't,  you will be constantly sorting.
The game is finished when a kiddo has a picture card for each letter on the board.  I personally like to check the boards a few times to see if they are doing it correctly. Later on I have the kiddos check each other's board. (They take this very seriously!)  I will usually play this game  5  days in a row. ( I tell the kiddos to choose a new board each time they play) After 5 days in a  row of playing, after that I re-introduce it into  centers about once a week until I am confident the kiddos have a good understanding.
Who Can Use this Game
It is perfect for students learning to listen for the last sounds in words. The ability to sound out or decode words is an important step in reading.   It  is also a perfect game for independent play and understanding and it is just another way to teach hands on ending sounds!  If you like this, you may like some of my other sound games.
Get This Game
Do you love the idea of this game but don't have the time to create it yourself?   You can find Ending Sound Lotto Game in my  Teacher Pay Teacher Store .  Your kiddos will love it!
Related Products
Ending Sound Card Game- Autumn
Beginning-Sound-LetterPicture-Sort-Game-Real-Photos
Let's Connect
Let's stay connected!  I can be found on Facebook or Pinterest sharing more ideas!