Teaching "Fractions" can be started early in the year with many great activities and follow the common core!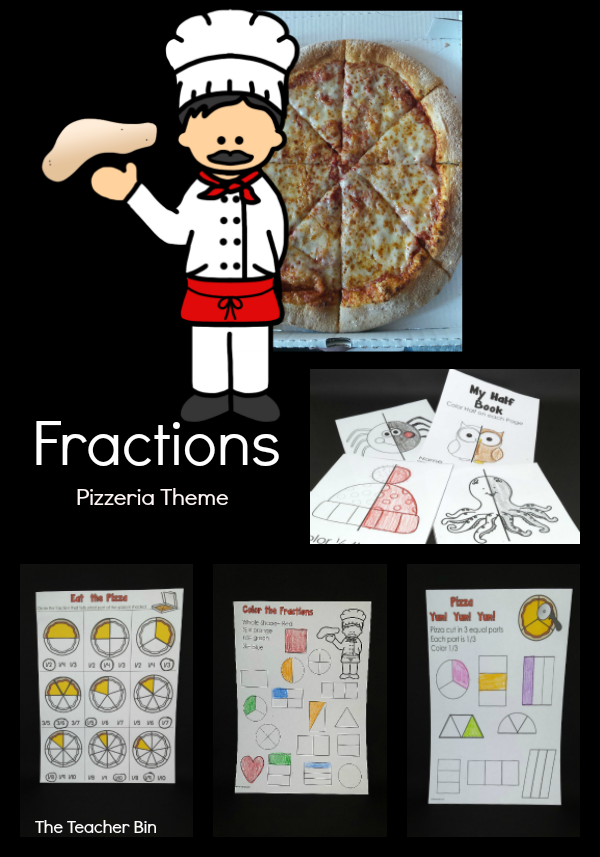 Often times in math the book has the section on Fractions found at the end of the year. I feel like fractions  is a rushed section trying to get everything else in that needs to be taught,  and then working with "fractions"  has a little different twist on math.
Fractions Product Contents
The "Whole" Book-Color pictures that represent the fraction whole 1/1
The "Half" Book- Color pictures that represent 1/2 or two equal parts.
Color Half of a Collection-Understanding what is half of a collection
Color 1/3 of three equal parts-Worksheet
Color 1/4  of four equal parts-Worksheet
Color one whole, 1/2,  1/3,  1/4-Worksheet
Count the pizza parts of a whole pizzas
Circle the fraction that tells what part of the pizzas are shaded.
Circle the fraction number that represents what part of the pizzas are shaded- worksheet.
Color a pizza for each person – Compare and figure out the answer-a problem solving skill.
Pizza Fractions game- the game is a card game using shaded fraction pizzas and a number fraction.  It can be made for a small group or a class game.
Problem solve the fraction recipe  and draw fraction ingredients in the pizza.
How to use the Product
The product is organized so it can be used early in the year.  I want the kiddos to methodically understand and visualize fractions. The worksheets in the product meet the common core in math.  I  copy it as a packet and use it throughout the year.  Along with the packet I use the fraction vocabulary in class and I also make an anchor chart and build on that all year.
Fraction Game-Culminating Activity
The game can be played with a small group setting or copied for a whole class.   It can be used as a matching activity.   The kiddos love the game and catch on to it fast.  Depending on the age level you are working with the cards you use my be different.
Our last activity in Fractions is to have a Pizza Party!
For fraction ideas, go to my store and look at my Fractions product.
Looking For More Ideas?
Visit The Teacher Bin on Teachers Pay Teachers where I share lessons, games, and ideas for the classroom!
Let's Connect
Let's stay connected! I can be found on Facebook or Pinterest sharing more ideas!