Halloween is right around the corner, and what's more fun for the kiddos than thinking about their costumes and Trick or Treating. I know my own kids wore their costumes at home long before Halloween and they were practically worn out by Halloween.
I like to make this a fun week in school too, with games,treats, projects, and activity sheets.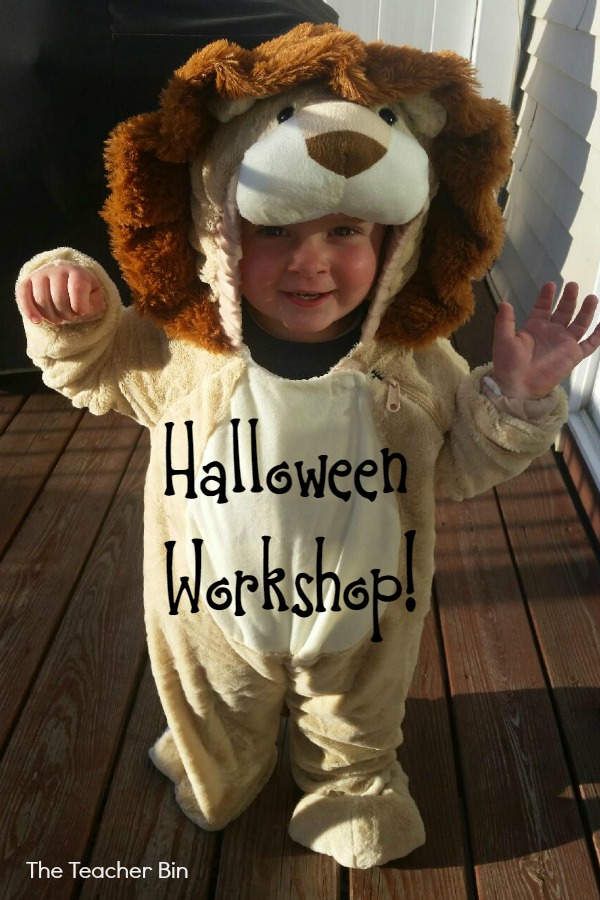 Workshop
Some years I am only able to do a one day, fun day, for Halloween activities so incorporating it into Workshop is  great.  I am able to have the kiddos accomplish several jobs quickly and they love the activities.  I also have task cards  to display the jobs for the activities.
Halloween Workshop Ideas
Missing Letters – I have candy corn sheets with letters in various sequence order.  Some of the letters are missing. The kiddos must cut out the corn candy and find the missing letter.
Measuring Pumpkins-This is a measuring sheet with various sized pumpkins, the kiddos use Non Standard items to measure the pumpkins. I usually give each table different an item. (pony beads, red and white  beans, etc.)
Logical Reasoning and Problem Solving – There are three worksheets of Halloween kids in Costumes.  The job is can you figure out who is who by solving the questions?
Halloween Counting – How Many Halloween Items can you find in the picture.  It is a not so haunted house with objects all around to count.
Halloween Graphing – Halloween graphing is three sheets of coloring objects , counting using a ten frame, and color graphing  the Halloween creatures.
Magic Potion Drawing–  Spooky and cute pictures you can create with magic potion. I use only a quarter size amount of Magic Potion with detailed instructions how to use it.
The Popcorn Hand – Popcorn, a plastic glove,  candy and spider rings make this  project fun and good to eat .
Lollipop Ghosts– A box of tissue, lollipops, marking pen and bread twisters  and you have a cute ghost.  It's easy and if you use Dum Dum Lollipops you can make several.
Owl Card– A cute card for someone you love.  It is made out of construction paper with a  verse to clue inside.
Open the Door Card– This is another card with the verse on the door of the card. The kiddos must cut open the door and behind the door is the cute picture the kids draw.
Ghost foot– Paint makes this cute little ghost. White paint, construction paper  and foot painted makes the ghost.  Add some eyes and you a ghost.
Crayon Resist– Cray-pas drawings on construction paper and black paint  brushed over the picture make the colors pop right out.
Project photos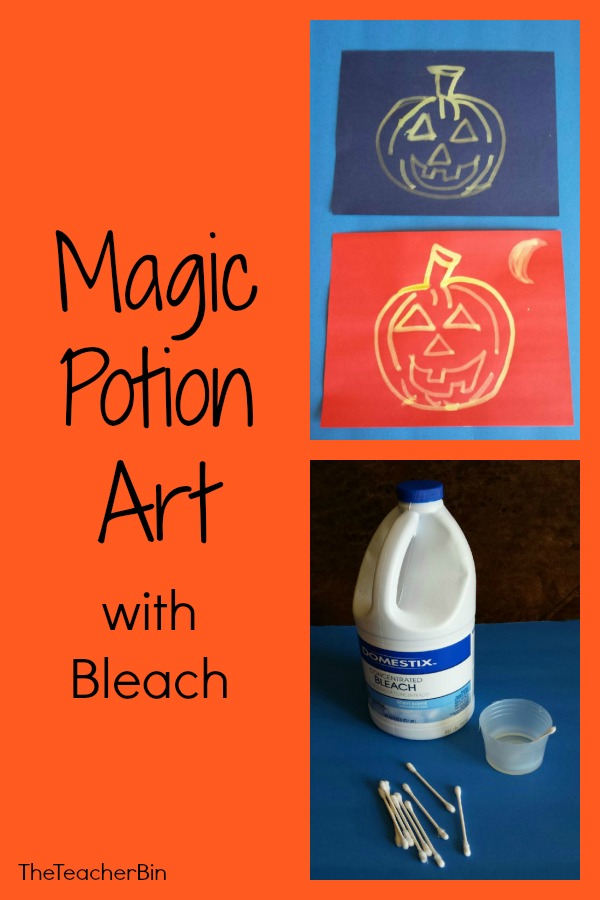 Get Your Halloween Workshop Set-Up Now
You can find the Halloween Workshop task cards  and  Halloween Workshop Activities  at my Teachers Pay Teachers store.  Have a fun week Halloween with your kiddos!
Looking For More Ideas?
Visit The Teacher Bin on Teachers Pay Teachers where I share lessons, games, and ideas for the classroom!
Let's Connect
Let's stay connected!  I can be found on Facebook or Pinterest sharing more ideas!